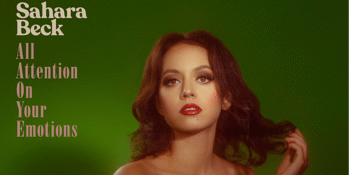 Sahara Beck - All Attention On Your Emotions Tour
Sooki Lounge (Belgrave, VIC)
Thursday, 22 February 2024 8:00 pm
Critically acclaimed singer-songwriter Sahara Beck has today released her much-anticipated album All Attention On Your Emotions alongside the announcement she will hit the road to headline a national Australian tour throughout February and March 2024 - on sale 7am AEST Wednesday 1st November.
All Attention On Your Emotions is a significant milestone in Sahara's career, showcasing her growth as a musician, songwriter and storyteller. The album features ten tracks, including recent releases 'Hard To Tell', 'Thinking Twice' and 'Hunter', that delve into the complexities of the human condition. Thematically, the album is inspired by Plutchik's 'Wheel of Emotion', with each song embodying an emotion revealed from beneath the cloak of Sahara's clever storytelling and colourful sonic artistry.
Renowned for her magnetic stage presence and unparalleled showmanship, Sahara Beck has graced illustrious venues and festivals across the globe, from captivating audiences at Glastonbury Festival and the renowned Queen Elizabeth Hall in London to leaving an indelible mark on events like the Edinburgh Fringe Festival, Perth Fringeworld, Woodford Folk Festival, Adelaide Fringe, Blues Festival Byron Bay, Falls Music & Arts Festival, and more. Additionally, she has shared the stage with acclaimed artists such as Bishop Briggs, The Rubens, Kim Churchill, Ball Park Music, Ocean Alley, and Paul Kelly.
As a songwriter, Sahara has garnered multiple accolades and international recognition with a growing demand as a Topliner having co-written and featured with Grammy winner Purple Disco Machine, ARIA club chart Queen Mell Hall as well as releasing tracks with Toby Romeo and Mellowdy. Sahara was a 2022 finalist in the International Songwriting Competition and the Nashville-based Unsigned Find Comp, and in 2019, she placed 3rd in the prestigious Vanda & Young Songwriting Competition. Furthermore, she has received numerous QLD Music Awards and prestigious honours, including the Carol Lloyd Award in 2020 and the esteemed Grant McLennan Fellowship in 2023.