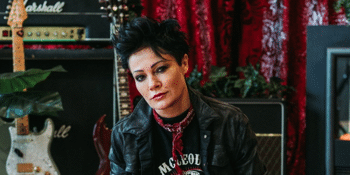 Sooki Lounge presents
Sarah McLeod – One Electric Lady Tour
with special guests
Sooki Lounge (Belgrave, VIC)
Friday, 26 March 2021 8:00 pm
Aussie rock royalty
Sarah McLeod
has today shared her touching new single,
Chachi's Theme
, an ode to her recently-passed, beloved and iconic pooch that regularly shared stages with her over the last 15 years. The single comes as McLeod today announced her national
One Electric Lady
tour for February and March next year, set to hit Sooki Lounge Belgrave, Workers Club Geelong, Birds Basement Melbourne, Ballina RSL, The Lounge Nundah, Wallaby Hotel Mudgeeraba, The Vanguard Newtown, Royal Hotel Queanbeyan, The Brass Monkey Cronulla and winding up at Grace Emily Adelaide.
Chachi's Theme
is a stunningly raw, emotively charged piano ballad written to honour McLeod's late rockdog, Chachi who passed away last month, something a little different from McLeod who first found fame in the late 1990s with 3X ARIA Award winning rock band
The Superjesus.
"
Chachi has been my everything for 15 years,
she came with me on almost every Australian tour and everyone loved her
. She recently passed away and I've been trying to work out how to live without her. I found myself going a bit nuts , asking all the birds if they had a message from Chachi, then I thought instead of sitting waiting for a message from her, I'll send her one from me,"
McLeod explains.
"I read this poem about the rainbow bridge by Paul C Dahm that comforted me so much. They say that's where animals who were especially close to their owners go after passing, it's a beautiful utopia of love and sunshine and all the sick are healed. Here they wait for their special friends, and when it's our time to pass, we meet them and cross the bridge to eternity together. I've taken great comfort in this poem and I wanted to make sure Chachi knew what to do. I figure if I'm singing this song night after night she will undoubtedly hear me and get the message. It was so hard to write because I did it the week she passed, it was all so raw and I cried all the way through it, but I had to push through because I knew I needed it to heal. Now, besides a piano covered in tears, I have this song, I have something solid I can connect with her through, forever, she will be with me always but especially when I sing this song. I wrote it to heal my heart and to let her know that everything is ok. Then I thought, it may heal other hearts in similar situations so I thought I should release it and donate the proceeds to the RSPCA.
"
McLeod will be performing solo on her upcoming tour, and this powerhouse and self-confessed lover of touring has some seriously impressive plans for the shows, explaining, "
The One Electric Lady Tour is a bridge between where I've been and where I would like to go. Before covid hit, I was about to embark on a national solo electric tour. During lockdown I have been teaching myself how to play piano and am loving it. So this tour will be the best of both worlds, two sets of completely different styles. One set is a stand up rock show that if you closed your eyes you'd think there was full band on stage, but it's just me. And the other set is me alone on the piano."
Having used the Covid-19 lockdown to hunker down in her home studio and hone her piano skills, McLeod also started a Patreon site,
McLeod's Wolf Pack
. "
It's a group of people that I run all my creative ideas by and send all my songs to as I write them. I started it when covid hit, but I am enjoying it so much that I will keep it going as long as people are interested, because I'm loving the direct communication with fans and really enjoy getting their feedback. I let my Patreons in on everything I do, I have even collaborated with some of them - as a group they are my musical first responders
."